Latest topics
»
We seem to be down again
by
The Bullet
Fri Sep 03, 2021 8:26 pm
»
Return to the Clocktower...
by
Mercury Wells
Thu Feb 25, 2021 11:06 pm
»
How was your day thread (continued)
by
Ottens
Thu Feb 25, 2021 9:59 pm
»
About to go into battle
by
rovingjack
Thu Feb 25, 2021 6:41 am
»
cloth-wrapped USB Cables
by
Keith_Beef
Wed Nov 04, 2020 5:23 pm
»
IMPORTANT: IT SEZ HERE ...
by
Keith_Beef
Tue Nov 03, 2020 11:08 am
»
Spare thingies...
by
LordPentecost
Mon Sep 21, 2020 12:20 pm
»
9:30 PM MDT Is BG down again?
by
prof marvel
Sun Sep 20, 2020 6:32 am
»
New Administrator
by
SeVeNeVeS
Sat Sep 05, 2020 4:18 pm
»
Another problem
by
Ottens
Mon Aug 31, 2020 6:42 pm
»
PROBLEM WITH FORUM FOR TWO MONTHS
by
mwbaaailey
Sun Nov 03, 2019 5:17 am
»
BG Is Back Up
by
RockyB
Thu Oct 31, 2019 4:41 pm
»
BG down yet again?
by
mwbaaailey
Wed Oct 30, 2019 7:20 pm
»
Here we go again?
by
RockyB
Thu Mar 29, 2018 1:17 pm
»
Spare goggles Exploration Journal entries
by
rovingjack
Thu Aug 18, 2016 3:30 am
»
Is BG Down Again?
by
GCCC
Mon Feb 29, 2016 9:33 pm
»
Things to do while Brassgoggles is down
by
GCCC
Mon Feb 29, 2016 9:28 pm
»
Van living, fulltime RV
by
rovingjack
Mon Feb 29, 2016 10:36 am
Statistics
We have
712
registered users
The newest registered user is
LordPentecost
Our users have posted a total of
7709
messages in
667
subjects
I've been distracting myself from my woes with videos and documentaries on youtubes about people and places involved in the lifestyle of converted vans and RV living.

Some of them seem like adventures I should be having now, and might begin chasing once/if my health returns to a point at which I could.

Though I just watched one documentary that sort of broke my heart into little tiny pieces this afternoon. It's likely to haunt me for a bit. The people start by talking about being the truely free stretch of America, but as you watch further on it plays out more like the vangaurd of shanty town refuge from a new great depression.

But there is still some sense of wander and wonder at the idea of it. I don't know if I could handle it with my health concerns But I would love to give it a try. It was while looking at the idea that I began to crunch the numbers and find that improbably it looks as though I could not afford to live in a van, boondocking, and moving from place to place. which in it's own way is kind of sad.

But I wanted to maybe talk about the idea and the romance of it with other who may share the appreciation and the daydream anyway.

rovingjack

crewhand





Number of posts

: 15


Registration date :

2010-02-26



I've thought for quite some time about turning the family's utility trailer into a gypsy-style "vardo" or perhaps a drover/sheepherder wagon setup. Dad wants to keep it strictly for hauling things, but he may relent someday...

mwbaaailey

officer





Number of posts

: 129


Registration date :

2011-06-24



How many of you have actually lived in an RV?  Any type of RV. I have.
I actually lived in an RV for one whole year when I came from California to Texas. I lived there with my grandfather, not alone. On my uncle's patio, actually, about one block from a supermarket where I worked to gain Texas resident status, so I could get college subsidies.
And even though we were parked next to a house and used the house bathroom for showers, I have to tell you. It's no fun. Even in the 26 luxury motorhome with microwave and refrigerator (and bunk beds). The fact is no one in the neighbourhood wants someone living in an RV on somebody's patio (my situation). You have to deal with dumping the sewage on a nearly daily basis unless you are connected full time. And the nosy neighbours will complain about odour from the connection.
If you live on a an RV park, it will most likely will be on the outskirts of the city, far away from downtown, so transportation will be a problem unless you are working from a computer or something.
Insulation is poor in 100F and 32F weather extremes, and basically you try to spend most of your time in the street. In my case, I spent my time working at a supermarket. I had to pay my uncle 1/3 of everything I earned in order to "cover" our living expenses.
I still miss the motorhome though.
Nearly identical to these two, except we had bunk beds in the rear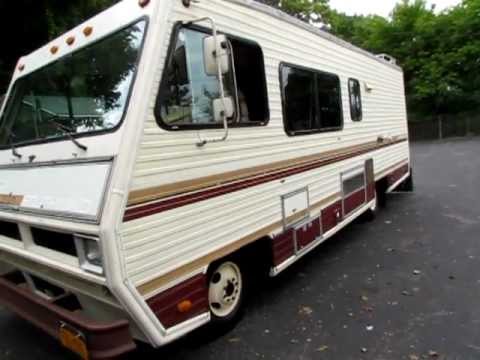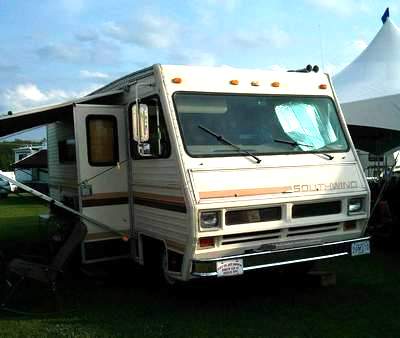 J. Wilhelm

officer





Number of posts

: 72


Registration date :

2010-10-31



I was looking at the new-generation Southwinds, and they look NOTHING like the ones I remember.  The new ones are very much bigger, built around Greyhound-bus size bodies, and probably cost as much as a median home.  And I think with their "southern home" luxury take all the fun away from camping, IMHO. They do have pop-up living rooms and bedrooms (very impressive expansion), but having a realistic notion of weight and engine requirements (having travelled all over the US West from Texas to California through Montana and Canada), I can't fathom carrying that much weight, and the new size of the vehicles is so large, you have to be aware in advance of the heigh of all overpasses in the highway.  This will severely limit the number of routes you can take. Did these guys put actual glass tile and grout in the kitchen? I've seen those at Home Depot.

http://www.fleetwoodrv.com/southwind

I'll take the old 1970s / 1980s RVs anytime over these new "tour bus" monstrosities

J. Wilhelm

officer





Number of posts

: 72


Registration date :

2010-10-31



the appeal for me isn't so much as a accessory dwelling, but as a place I could live in like many of the small rooms in a homes I've rented. Basically a dorm room, with a bed, desk, kitchenette, and a way to shower (and work out a toilet option). But if I want to be down in New York city for a maker fair I can do that and go home each night. Then I can come back up north and spend time with family for thanksgiving and maybe on through december. But then relocate down past the snow for the season (except for a trip for 3 family birthdays all around now). Come back up for spring time. Maybe make a trip to some other conventions around the year. All while always having my own bed, bathroom, and kitchen with me. (no having to search for a rest stop in case of urgent bathroom need, or to get cleaned up, or what I can do for my restricted diet if I run out of food or it gets spoiled with a cooler fail).

Eventually I might like to get one of more bits of land or houses that I could rent out, grow gardens on, and park on when I'm in the area.

I would actually rather be in rural areas, and camp sites rather than RV parks, or Boondocking. I'd also hope to be able to make income from online methods if possible.

As for mobility outside of riving the house around- moped! or electric bike. Strap it to a bike rack and you are good to go.

The climate control and the toilet are my two biggest hurdles to resolve. I may be able to work the toilet situation out. the climate control would e a bit harder to handle... but not impossible.

rovingjack

crewhand





Number of posts

: 15


Registration date :

2010-02-26



Similar topics
---
Permissions in this forum:
You
cannot
reply to topics in this forum