Latest topics
»
We seem to be down again
by
von Corax
Fri Feb 26, 2021 10:38 am
»
Return to the Clocktower...
by
Mercury Wells
Thu Feb 25, 2021 11:06 pm
»
How was your day thread (continued)
by
Ottens
Thu Feb 25, 2021 9:59 pm
»
About to go into battle
by
rovingjack
Thu Feb 25, 2021 6:41 am
»
cloth-wrapped USB Cables
by
Keith_Beef
Wed Nov 04, 2020 5:23 pm
»
IMPORTANT: IT SEZ HERE ...
by
Keith_Beef
Tue Nov 03, 2020 11:08 am
»
Spare thingies...
by
LordPentecost
Mon Sep 21, 2020 12:20 pm
»
9:30 PM MDT Is BG down again?
by
prof marvel
Sun Sep 20, 2020 6:32 am
»
New Administrator
by
SeVeNeVeS
Sat Sep 05, 2020 4:18 pm
»
Another problem
by
Ottens
Mon Aug 31, 2020 6:42 pm
»
PROBLEM WITH FORUM FOR TWO MONTHS
by
mwbaaailey
Sun Nov 03, 2019 5:17 am
»
BG Is Back Up
by
RockyB
Thu Oct 31, 2019 4:41 pm
»
BG down yet again?
by
mwbaaailey
Wed Oct 30, 2019 7:20 pm
»
Here we go again?
by
RockyB
Thu Mar 29, 2018 1:17 pm
»
Spare goggles Exploration Journal entries
by
rovingjack
Thu Aug 18, 2016 3:30 am
»
Is BG Down Again?
by
GCCC
Mon Feb 29, 2016 9:33 pm
»
Things to do while Brassgoggles is down
by
GCCC
Mon Feb 29, 2016 9:28 pm
»
Van living, fulltime RV
by
rovingjack
Mon Feb 29, 2016 10:36 am
Statistics
We have
712
registered users
The newest registered user is
LordPentecost
Our users have posted a total of
7700
messages in
667
subjects
This is a thread for maillers to discuss current projects, problem, and ideas.
But its also for people curious about maille in general, or for people interested in starting / trying it out.
you can either make:
chains
Spoiler:
Sheets
Spoiler:
Spoiler:
or other miscellaneous doodads
Spoiler:
theres even "structural" maille, but i have done much of that. usually done with really dense weaves.
Lets see if this goes anywhere

Sneath

crewhand





Number of posts

: 13


Age

: 33


Location

: San Bruno, California


Registration date :

2008-10-06



Nice! Did you make all of those pieces?

I've been known to maille a bit in my day. I'll post some pictures soon, most likely, though it'll just be pictures that I already been posted over in the motherland before my long absence.

kogwheal

crewhand





Number of posts

: 17


Registration date :

2008-10-20



yup
after a while of just making my own stuff (which i still do) i started making bracelets for friends and such... then i realized that i wouldn't be a jerk if i started charging my friends for them.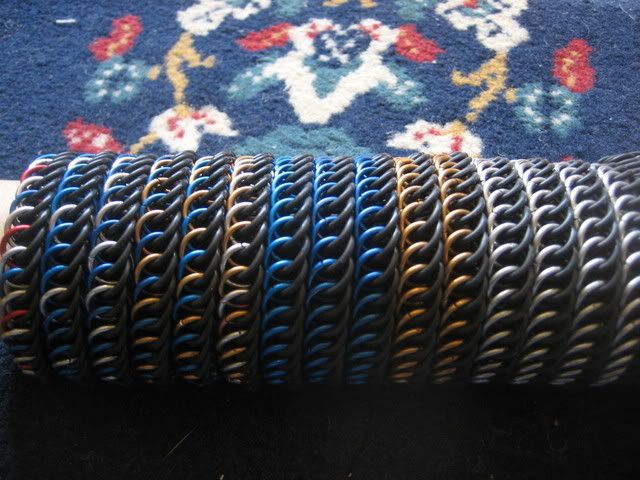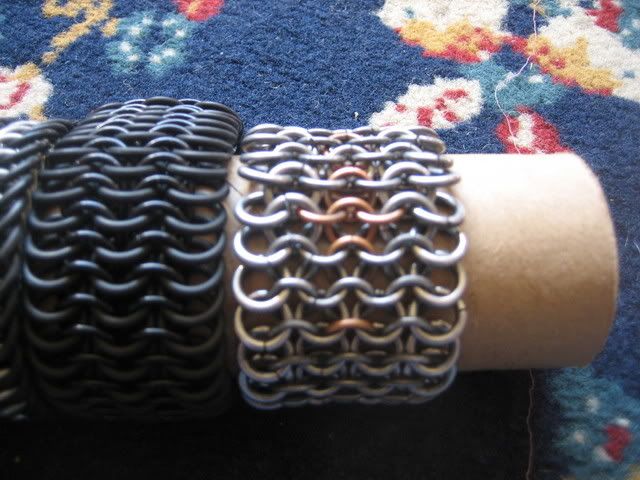 my color pallet is pretty limited right now cause I bought a few colors to try out (2 kinds of blue, purple, red, black, and black rubber) but ill have all the colors of the rainbow once i get a job
my current project, a coif, wasnt planned... it was just cause i didnt have much else in mind to make, and i hadn't done it before.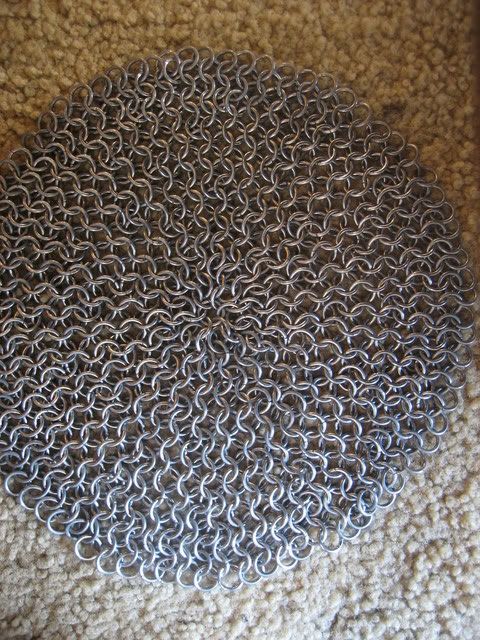 the weave is expanded circle... and im not very fond of it really. its too abstract and up to how much expansion i want or dont want. which i guess makes it really useful, but i like being able to just make something and not plan out every expansion. Im at the point now where i stop expanding and make it look more like a beany than a yarmulke

Sneath

crewhand





Number of posts

: 13


Age

: 33


Location

: San Bruno, California


Registration date :

2008-10-06



This jewlery is... amazing. You all are very talented.
I built myself a chainmaille hauberk, but when I did, I built it for a 42 inch chest max, not expecting to grow much, sadly, 2 more inches and I wont fit into it anymore, i'll have to rip out the center rings and add more weave.
Apologies on the graininess of the pictures.
woow, didn't know spare goggles was still around, until I got an email saying there was a response.
very nice Kedric
What gauge and ID did you use?
Now after wearing my armor a couple times, I look at yours and think of how nice it would be to wear something so loose... Even plate armor was more flexible than mine because it was articulated.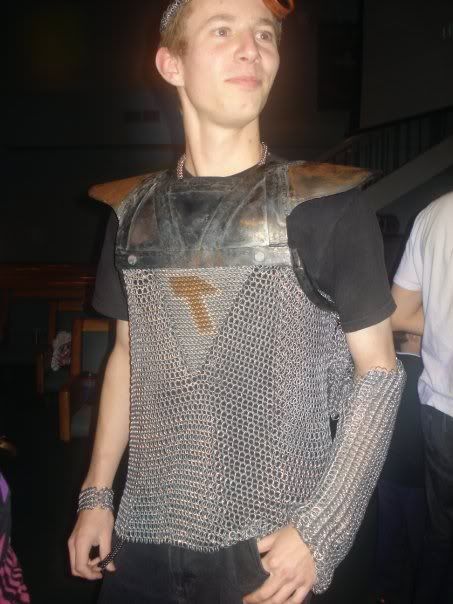 So, my last post in this thread was in October...
On December... 12th I believe, I got in a very large order of rings, with all sorts of colors.
In mid February I started listing things on Etsy, and slowly but surely thats been going really well. I still make lots of bracelets, but my focus lately has been wrapping marbles. They've been pretty popular.
www.Sneath.etsy.com

Sneath

crewhand





Number of posts

: 13


Age

: 33


Location

: San Bruno, California


Registration date :

2008-10-06



Wow, I really like your "Forars Kaede" weave. I just used a standard 4-in-1 weave with i'm sure a few mistakes here and there
.
Its 16 guage mild steel butted obviously, not rivited like I'd want if I were actually gonna get shot at with arrows...I'll make rivited eventually, or maybe buy some, but for now this'll have to do. I'm a fighter in the combat sport "Dagorhir". I'd call it a larp, but I cant recall the last time I saw anyone roleplay anything, soo.... xD
Basically we just fight and fight and fight. generally 100-200 fighters per battle, larger event may attract a couple thousand, nothing major really, just little spats in comparison to real dark-ages war. My personal unit, which I'm proud to have founded, boasts about 25 members, but were lucky if we get 10 to show up to a battle. Rome is generally the driving force, bringing 80+ fighters sometimes.
You can find my unit at Varangia.tk. We're based in Maryland. (also, the helm is handmade too, got the tail of my friends horse.
Similar topics
---
Permissions in this forum:
You
cannot
reply to topics in this forum