Latest topics
»
Here we go again?
by
RockyB
Thu Mar 29, 2018 1:17 pm
»
Return to the Clocktower...
by
Mercury Wells
Tue Sep 19, 2017 10:53 pm
»
About to go into battle
by
rovingjack
Thu Aug 18, 2016 10:13 am
»
How was your day thread (continued)
by
rovingjack
Thu Aug 18, 2016 3:44 am
»
Spare goggles Exploration Journal entries
by
rovingjack
Thu Aug 18, 2016 3:30 am
»
Is BG Down Again?
by
GCCC
Mon Feb 29, 2016 9:33 pm
»
Things to do while Brassgoggles is down
by
GCCC
Mon Feb 29, 2016 9:28 pm
»
Van living, fulltime RV
by
rovingjack
Mon Feb 29, 2016 10:36 am
»
Due to High stress on the server, the site is temporarily unavailable."
by
mwbaaailey
Thu Nov 19, 2015 5:03 pm
»
Rogues Gallery Incidental
by
mwbaaailey
Fri Dec 19, 2014 8:06 am
»
Brass-Gogglers -
by
J. Wilhelm
Wed Oct 29, 2014 4:58 am
»
BG down - domain expired
by
oldskoolpunk
Tue Oct 28, 2014 10:20 am
»
Also found the way....
by
The Bullet
Mon Oct 27, 2014 12:20 pm
»
So... anyone got something to talk about in the meantime?
by
Mercury Wells
Sat Oct 25, 2014 10:00 pm
»
Is Brass Goggles down again?
by
Argus Fairbrass
Sat Jun 28, 2014 8:46 am
»
Here we Go Again?
by
mwbaaailey
Thu May 08, 2014 11:34 pm
»
We Have Reached Peak Beard!
by
Captain Lyerly
Sun May 04, 2014 4:23 am
»
Heartbleed?
by
Argus Fairbrass
Thu Apr 24, 2014 4:20 am
Statistics
We have
626
registered users
The newest registered user is
Will Rockwell
Our users have posted a total of
7597
messages in
659
subjects

Picked up an antique steamer trunk on the side of the road Sunday.
For free!
YAY!
It is severely worn and smells of basement but free is free!
Now what do I do with it?
It's HUGE and smelly and I love it. It's going to be part of our pirate haunt for Halloween but I'm not sure what to do with it otherwise.
Any usefull tips on getting the "basement musty" aroma out of wood?
DB
First things first. Look for a maker, the look them up on e-bay. We recently got a trunk in an estate sale that turned out to be a Goyard. We paid $120 for the lot (trunk old radio a couple chairs) and had already made our money back when I looked up the trunk and found out it was worth about $4-6000. Sold it on e-bay for $3400. Apparently there's quite the market for antique trunks by certain makers.
Congrats on your boon! That's a heck of a find.
Mine has no makers marks or badges other than the fact that it has an "exelsior" locking hasp from Connecticut, so most likely a U.S trunk.
The largest flat sides have some serious water damage too. A shame really.

DB
As for getting the "basement aroma" out... The sun does some amazing things, but it may bleach teh fabric a little. We usually just open everything up and leave it in the sun on a nice day for a few hours. that a a nice dose of febreze will work wonders. Wont get really stinky stuff clean, but will remove a mild musk. (I work at an antiques mall, so we see this frequently)
White vinegar mixed with water (sprayed on) and then put out in the sun. Vinegar kills mildew. You might want to test it in a spot to make sure it doesn't bleach the fabric.
gunner





Number of posts

: 31


Registration date :

2008-10-09



O_O This last weekend we had a estate sale at my deceased grandmas house and I laid claim to a large dresser trunk before the sale started, for a whopping $0 (not that I paid for anything I got)
the trunk itself is in really good shape, except that the leather straps on the outside are really old and messed up, and one of the clothe hinges in side is hardly holding together. and the original key is so far nowhere to be found.
then again, it might be hard to make another one... my uncle and dad yanked the lock off and broke the rivets so i have access to the lock, and with a few measurements I think i can design a new key.
with a little research, i think its a Homer Young & Co. Dresser/Wall/Pyramidal Trunk
:edit: not my trunk, just pics of the closest thing i could find.
Spoiler:
Spoiler:
the color scheme on mine is different (not pool table green inside).
id give real pics... but its kinda a few cities over right now.
http://www.oakmeadowgroup.com/dressertrunk.html
crewhand





Number of posts

: 13


Age

: 31


Location

: San Bruno, California


Registration date :

2008-10-06



SCORE! Both you and Mr. Sneath found some trunks full of win. I have had a few things that were musty and I NEVER got the stink out.

Commodore, you should make a determination about whether you care about the papers and fabrics on the trunk. Also, if the trunk is still damp, you've got to get it dry. The musty smell is from the volatile organic compounds produced by a type of mold, and the mold will keep growing as long as the wood of the trunk is damp (more than 19% moisture as measured with a lignometer).

If you don't care about finishes, you can be more aggressive. I've had good luck soaking things in an enzymatic cleaner called "Nature's Miracle." The more, the merrier. You may have to do it several times. Maybe even stick it out in the sun to bake for a while.

To preserve the finishes, you might try what I've found online: Presumably, there are some kitty litter products out there that contain activated charcoal or activated carbon. Alternatively, you might be able to find bulk activated carbon in a fish tank supply joint. Once the trunk is dry, you could put it in an airtight container with the carbon for about a month. The carbon might absorb the odors.

You could also talk to some professional disaster restoration/cleaning joints and see if ozone treating the trunk would help. Ozone oxidizes volatile organic stinky compounds and (sometimes) eliminates them or turns them in to more pleasant-smelling compounds. However, ozone can also break down rubber and plastics (which may not be of concern here).

At any rate, best of luck with the cleaning. Please let us know if you have any success.

Pip pip!
M
gunner





Number of posts

: 64


Age

: 50


Location

: Seattle, WA


Registration date :

2008-09-13



Thanks all!
Natures Miracle! Can't believe I didn't think of it. We have cats!
The interior has some fabric but mostly paper (excellent mold food)
With the damage to the exterior surfaces and underlying wood I honestly
think it's more of a candidate for restoration rather than preservation.
I'll get some better pics to illustrate the damage.

Oh! That pyramid trunk is amazing!

DB
To add to the trunk envy, here's a couple pics of that goyard we had. The canvas covering is all hand painted, with the Goyard name and address thrown in every once in a while, while still retaining pattern. All the latches and leather strappy things were stamped, as were the buckles on the fabric straps in the linen trays.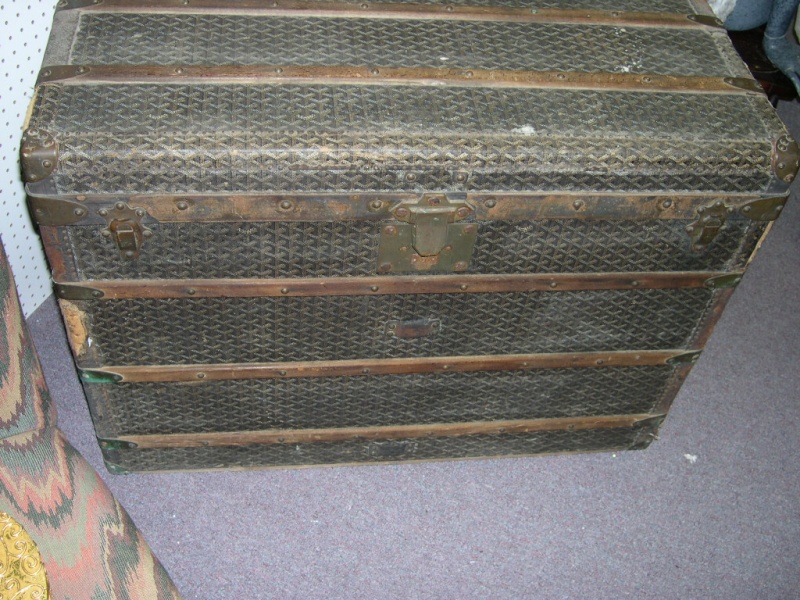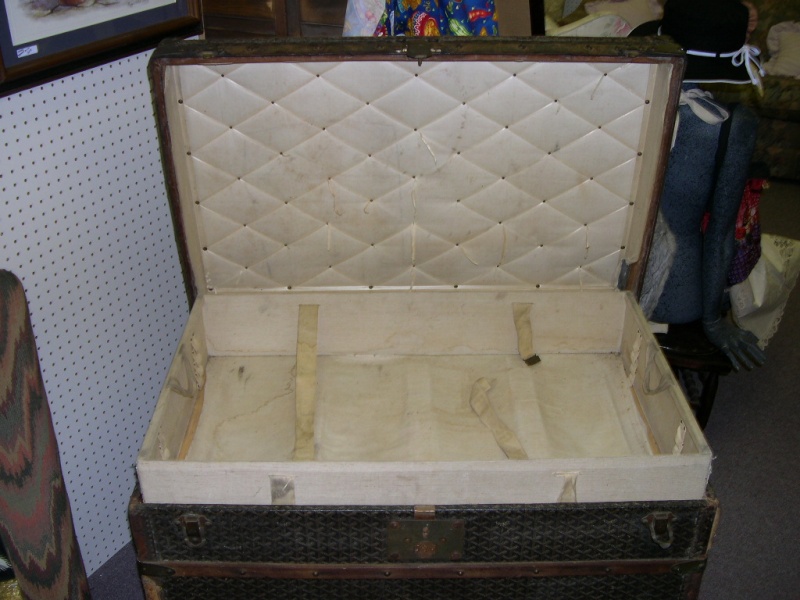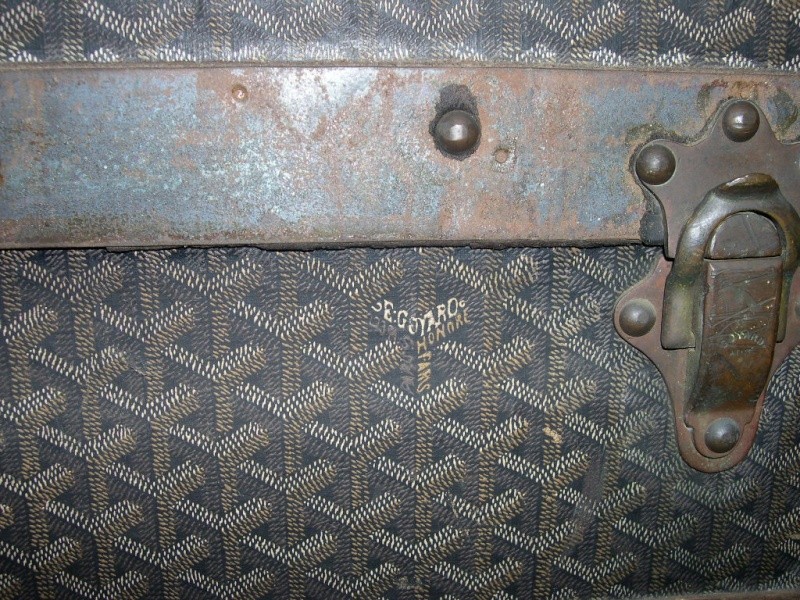 Bosun




Number of posts

: 163


Age

: 49


Location

: On an airship circling the tri-satate area


Registration date :

2008-09-17



so, im pretty psyched! just spent a couple hours taking measurements of the trunk, and snapped a few pics while i was at it. the measurements took such a rediculous amout of time cause the maker user quite a sizes... most needing to be written in 16ths of inches... 20 3/16"?! WHY?! and some of the measurements didnt add up across sides of the thing... so if i tried drafting the thing out when measuring starting at the left... id get a slightly different drawing than from the right side. beautifully designed, and the strange measure readings are mostly cause the slight alterations of the copper and clothe coatings are sometimes enough to bump the measure 1/16th either way >_>. althought the maker is still a jerk for making almost everything in weird fractions.
nuff of the ramble! pictures!
ok... theres a lot. brief look at the thing is in shown pics. so if u dont care about the individual compartments

front view
side view
the lock flap open... except the lock is no longer attached.
Spoiler:
so its still in the trunk most of the time, but since its not anchored to the flap, u just twist the thing and it comes out.
Spoiler:
and with it open
the top set of spaces opens with a flap... which is hardly connected
Spoiler:
Spoiler:
Spoiler:
the drawer beneath it
Spoiler:
the next drawer is cool... the upper left is separate, and where the upper right should come out, you find that its actually the depth of the drawer below it too.
and it opens by, yet again, a flap thats hinged in 2 places, depending out how much u need to get into it.
Spoiler:
Spoiler:
Spoiler:
Spoiler:
the last of the few problems is the skid on this drawer. somehow got mangled and torn. it fits fine, but tends to catch...
Spoiler:
and below that is a big empty cavity, save for some leather straps.
Spoiler:
o, and the envelope thing at the very top still opens and flexes nicely, which im thanful for.
Spoiler:
crewhand





Number of posts

: 13


Age

: 31


Location

: San Bruno, California


Registration date :

2008-10-06




---
Permissions in this forum:
You
cannot
reply to topics in this forum